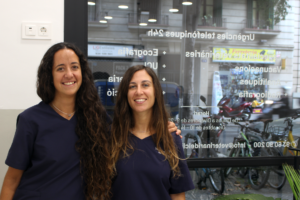 They're veterinarians, friends, and co-owners of a veterinary clinic they opened only 8 months ago, but they've already got glowing customer reviews on Google. Both gained valuable experience working in large veterinary practices before they turned thirty. Find out what motivated them to open their own practice and how they approach their work to achieve a balance between their professional and personal lives.
It's unusual to find such a young couple of vets today who are determined to take a risk and start their own business – and even less so in veterinary medicine. Marta Olivella and Gala Secanella, after working in leading veterinary centres, had a moment of reflection: did they see themselves working in another centre all their lives? The answer for both of them was no.
What motivated you to set out on the path of opening your own clinic?
The answer has to do with the future. It was necessary to do it ourselves in order to be able to create the clinic of our dreams, adapted to the needs of our patients and clients and to our way of seeing clinical veterinary medicine. Also on a professional level: what specialisation we're looking for and how deep we want to go. In short, to be able to do things our way with the experience we've acquired throughout our careers.
We're seeing that many friends and colleagues leave the clinic to work in other sectors related to veterinary medicine. We didn't want to give up our practice because we believe it's our true vocation. So in order to be able to continue doing what we enjoy the most, we decided to set up our own centre.
You have very good reviews on Google. What do you give your customers to make them so happy?
(laughs) We believe our clients are happy because we treat their pet like a member of the family. We involve them as much as possible in keeping their pet healthy, not only at home but also in the clinic. We like the guardians to be present during the diagnostic process and testing. Our philosophy is based on creating a bond between the patient and the vet, and to maintain a sense of security during visits to our centre.  
If there are children, we also try to involve them in the visit and use language that they can understand, especially if the visit is for a puppy! It's important to involve them and make them responsible for their furry friend from the moment they arrive at their new home. We also have a special area for them, so that they can play and have fun.
We know how demanding and involved the management of a newly opened business is, and how patient-client centred your philosophy is. Have you struck the balance between your work and your personal life that you were looking for?
We've always believed that it's essential to have a balance between veterinary medicine (work and training) and personal life. It's vital to find time to practice a sport, have a hobby, have free time to have dinner with the family, have a chat, watch a series, etc.
We currently work from 9am to 8pm. When free time is scarce, it's essential to make the most of it and know how to enjoy those few moments we get to spend alone and with the people we love. You learn to cherish them! It's a matter of setting aside a couple of days, afternoons or evenings a week to do something different that makes you just forget who you are.
How do you see the transformation of the sector with the influx of large investment groups and mutual health insurance companies?
We haven't experienced first-hand what it's like to work in a centre acquired by an investment group, so what we can say is based on articles or opinions of people close to us who've had to go through this change.
The methods of those centres can sometimes not be compatible with the needs of the client in terms of length and format of the visits. There are many very committed caregivers who (beyond focusing on their animal's health issues) also expect a warm bedside manner and sometimes even expect a kind of "therapy session" during their visits. If this doesn't turn out to be the case, the client doesn't gain as much value from the visit as they expected. 
On the other hand, we have the mutuals or veterinary insurance. We firmly believe that this concept is ideal and helps to promote having reassured owners who can go to the vet at the slightest problem detected in their furry friend. This sure could lead to a lot of benefits for the patients and veterinary medicine could evolve and advance faster (minimising veterinary costs for the guardians would be reflected in more research and progress in pet clinics). 
But the situation isn't quite the same in all European countries. Even if there are very valid and efficient insurance policies, there are others that require the veterinarian to charge very low costs for standard services (vaccinations, surgeries, etc.) or even to do a free first visit! This is unacceptable and undervalues the veterinary profession. But they are already expanding their centres little by little. We'll see how they take care of their employees – what will be the human resources policy and the standard of service.

Do you think that the high veterinary staff turnover rates we see in the centres are related to these takeovers?
High staff turnover in clinical veterinary medicine is a reality and has always existed, long before the arrival of these investment groups. Ours is a profession that is still undervalued in some countries, a fact that is often frustrating, since we work with lives that are just as important as humans'. 
However, we believe in the need to build a motivated team, with strong communication skills, trust, respect and organisation, who like and enjoy the profession as much as we do, and who want to give this beautiful sector of veterinary medicine a new lease on life. Sorry, human doctors, but our patients are much better than yours (laughs)!
And finally, we wanted to ask you what the ideal veterinary centre should be like in order to achieve a healthy mental balance for workers
First of all, we should organise timetables so that professionals can manage their private lives and favour family compatibility. Intensive timetables are ideal, as they allow employees to have certain parts of the day off.
The second aspect is employee motivation, because when you lose motivation that's when you start to question your work. It's important to listen to opinions and suggestions, and assess the possibilities of implementing changes together.
Thirdly, there's the economic issue, which in some countries is still unresolved. Having a competitive salary helps a lot, but motivation and schedules are perhaps just as important, if not moreso. We believe finding the balance between these three pillars helps the mental health of professionals working in the veterinary sector.
Gala and Marta agree 100% on all the answers in this interview. Maybe that's why they've opened a clinic together: because they share everything, including their point of view on how to avoid falling into the plague that most affects the veterinary profession: burnout.
Would you like to take a quick 1-minute test to find out if you suffer from burnout? Click here and find out with just a few short questions.