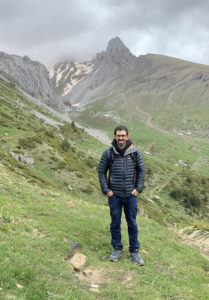 Dr. Luis Feo dedicated his life to sport until he discovered veterinary medicine. His training as a professional athlete has helped him to have keen discipline and concentration. In order to maintain his balance, he creates spaces for total disconnection during the week and on his days off, you'll find Luis mountain climbing.
Before studying veterinary medicine, you were a high-level athlete. Do you feel that sport has defined the way you are and the way you approach your career?
Yes, I didn't become an elite athlete but I dedicated many years of my life to it. It has helped me to have a lot of discipline and it was very, very useful in difficult moments of my veterinary career. And especially in the Internal Medicine Residency, which requires a high level of dedication, concentration and motivation. I think it's been fundamental in overcoming these difficulties.
What is more difficult to cope with mentally and emotionally: sports or veterinary medicine?
I think sports are more complex and difficult. The competitiveness that surrounds professional sports is very intense and that also pushes tensions levels up. With veterinary medicine I don't have to compete with anyone, only with myself.
In sport you can do things very well and not get any reward. But as a veterinarian I do things as best I can and usually get a fair reward for my work. This makes it less tense and less stressful for me.
Do you feel more pressure not to make mistakes because you have a degree in internal medicine and all eyes are on you?
I don't feel any pressure not to make mistakes, because I am aware that from time to time I am going to make mistakes. It's a fact that you have to accept. I focus on doing everything in my power: reading the latest articles that are published or helping a patient or a colleague as much as possible. So I guess I do put a little pressure on myself. 
In case I make a mistake, I try to realize it as soon as possible and look for solutions to correct it. And if possible, I try to prevent it from happening again.

The responsibility for making mistakes can be stressful for young people. How do you personally deal with your own mistakes?
As I said before, I assume that I am going to make mistakes at some point and I try to find solutions as soon as possible. What I tell myself and what I try to instill in my residents and interns is that you learn more from your mistakes than from your successes. In my residency, I learned more from the cases I got wrong than the ones I got right. It's just another phase of the journey that you have to accept and integrate into yourself and the process.
You are known for having a very particular style of teaching, but in the end everyone loves you. When you are guiding a young vet, what skills (hard and soft) are the most important for you to develop?
When I teach, there is one fundamental thing I try to make them understand: to learn something you have to be dedicated to it. It doesn't matter how intelligent or skilled you are, but rather that you have a strong commitment to your profession. 
You have to convey the value of dedication and enthusiasm in what you do. I love teaching, but even moreso if the individual has that enthusiasm and eagerness to learn. And if they don't, which sometimes happens, I try to find a way for them to develop this emotion towards what we're learning: in my case, internal medicine.
When there is enthusiasm and motivation, above all among young vets, it becomes a tool for channeling energy in the right direction and good professionals, good people and good colleagues emerge.
You do so many things every day related to veterinary medicine (clinic, teaching, technical advice, etc.) that it's hard to keep up with you.
Yes, I do a lot of things, sometimes I think I do too many. I think that doing different activities generates a benefit for each of them. I have the possibility to see my profession from different points of view which makes me better at each one of them. It's important for me to diversify a bit and to keep my feet on the ground a bit more.

Can your brain ever stop thinking about clinical cases? Do you have any hobbies? 😉
Although I do a lot of things, I think it's also important to have moments of disconnection and I am quite strict about this. Throughout the week I will generate spaces of total disconnection. During the residency I learned that I needed a hobby that would allow me not to think too much about work or cases. And that is what I have achieved thanks to mountain climbing.
Sport climbing, because of the risks involved, allows me to be totally focused on it and forget about my work. It also allows me to connect with nature, which is one of my passions. Doing a sporting activity is very beneficial for me on all levels. On the other hand, thanks to climbing I have a great connection with my friends, which is of great emotional and spiritual benefit to me. Climbing and veterinary medicine have been the big factors that have given me balance in life.
You are both empathetic and pragmatic in the way you approach your cases and the way you relate to owners. How do you protect your emotions in general?
I don't protect my emotions, I integrate them. I try to do my best every day, some days with better or worse results. And if this last happens, I try to normalize it and integrate it into my life. I think I have integrated my work well into my day-to-day life, for better or worse. I look at it from a certain distance, which allows me to survive certain difficult situations or those that affect me more on an emotional level.
What do you think should be changed in the profession to improve it?
I think that the way society sees the veterinarian has to change: we have an important role that society has to recognise, as is already the case in certain North European or Anglo-Saxon countries. This can help to raise standards and generate more respect for our profession.
On the other hand, we must be a little self-critical and improve our own management, from the Veterinary Associations to the Institutions. There are some that function very well but others are deadlocked in immobility.
What do you think is the key to mental health and balance in this profession? 
This is a complex question that perhaps needs to be answered by someone more qualified than me. 
In my opinion, I think there are three important factors: 
The first one is respecting downtime at work. It seems that the veterinarian is a professional who has to work 24 hours a day and it's important to have spaces of absolute disconnection to have a life that is not totally linked to the veterinary profession. 
The second one is working conditions.They are probably not as good as they should be in our sector. We have to keep working to establish more dignified conditions that will improve our mental health.
And the third one is to recognise that we are under constant stress, because we work with living beings and with clients who have a lot of difficulties sometimes. To work in this context it's important to have help, ideally the support of therapists who can teach us how to manage the difficulties of this work.