There is no doubt about the stress-reducing benefits of exercise. Not only does it increase physical endurance but it also releases endorphins. How do you balance your limited free time exercising and taking care of a pet in need of physical activity at the same time?  By practising a sport that you can do with your dog, for example, canicross or Nordic walking.


Canicross and Nordic walking are the ideal sports for the human-dog duo. They allow you to enjoy nature in their friendly company and also get some exercise. They are highly recommended for improving your physical and mental health, and your dog's too! 
When we think of Nordic walking or canicross we think of walking in the woods or the countryside, but not all of us who work in veterinary medicine live in rural areas. Should we give up these sports or practise them only at weekends? 
Not at all. We can do both in urban settings as well. You will only need shoes suitable for walking on asphalt to avoid injuries. And you will always have some park, promenade or quiet street to practice nearby. 
What is canicross?
Canicross consists of running on dirt tracks with a dog attached to your waist with a special belt and a leash that goes to the dog's harness. It requires good physical conditioning of both the dog and the runner. 
You can run on flat terrain, but it's more common to run on hills and slopes. The dog will be a big help on the uphill climbs, although extreme caution must be taken on the downhill slopes so as not to end up falling from the dog's pull, which, as you know, is much stronger than yours proportionally.
A gentler version is Dog Walking, which is walking at a brisk pace also with the dog on a leash, for those who don't like to run, or obviously if you have an older or smaller dog.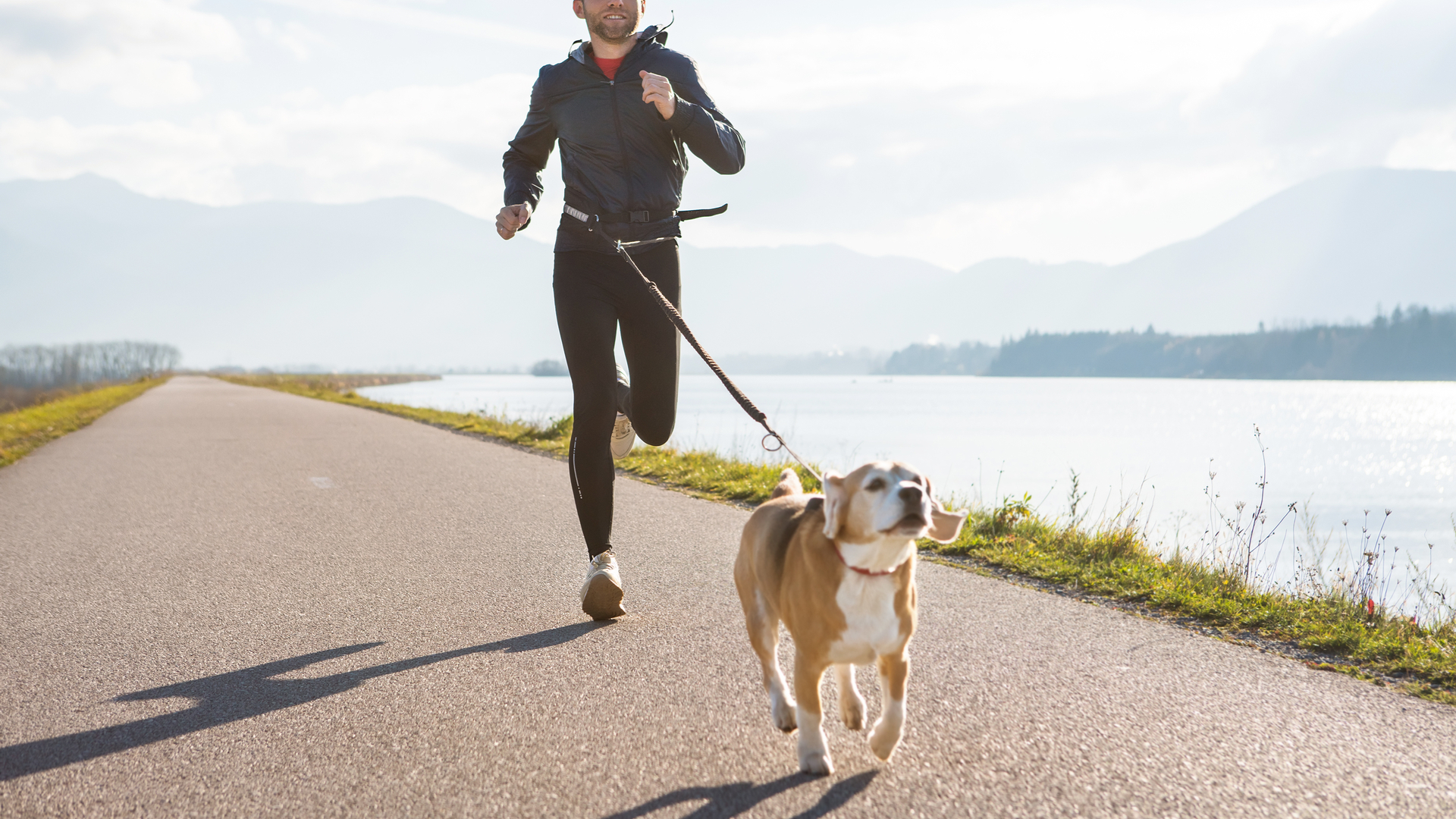 What is Nordic walking?
Nordic walking is walking using a specific technique and poles designed for this sport, which are lighter, with a special grip and rubber studs to prevent slipping. 
Nordic walking originated in Finland in the early 20th century as summer training for cross-country skiers. The basic technique consists of walking upright, swinging your arms forming a 60° triangle with the poles, and using them to push off the ground, propelling yourself forward. You can adapt your stride to the terrain and your body type. 
The main advantage of walking with these poles is that you work more muscles than when walking alone and you also avoid overloading the hip and knee joints by better distributing your weight. 
Canicross and Nordic walking with your dog: How to get started
Ideally, before doing either of these sports with your dog, you should not be a complete beginner to sport. Especially Nordic walking, as you will need to have all five senses focused on your spinal posture, the placement and width of your arms and the length of your stride.  
As with everything in life it takes learning, so look for a club in these sports to ask for advice and tips or train with someone more experienced who can correct you the first few rounds.
Once you have mastered the technique, you can start practising with your furry friend.
Which leash do you need?
To practise canicross or Nordic walking with your dog, it's essential to have your hands free. Traditional leashes are best avoided, especially for Nordic walking, unless you want to end up in a tangle of legs, poles and leash.
Hands-free strap with pocke

t, convenient for carrying documents, phone and poop bags. Also suitable for Canicross (running with dogs).

Length of lead

. Ideally, the dog should always walk in front of you so as not to hinder your stride and the movements of the poles in Nordic walking. The dog should be far enough away from you so as not to get hit or hamper your movements, but not so far that you end up tangled up in the first tree or lamppost.
The experience of practising sports with dogs is outstanding. Besides the health benefits for both of you, it contributes a lot to the happiness of the animal.
The experience of everyone who does sport with dogs is outstanding. Besides the health benefits for both of you, there really is a big plus: you contribute a lot to the happiness of the animal and that really is your main priority in life, isn't it? 😃 You will exercise in good company and you will have found a healthy way to take care of your pet's needs.
 In future articles we will be giving you ideas of other sports that you can practise with your dog. 
Would you like to give it a try?