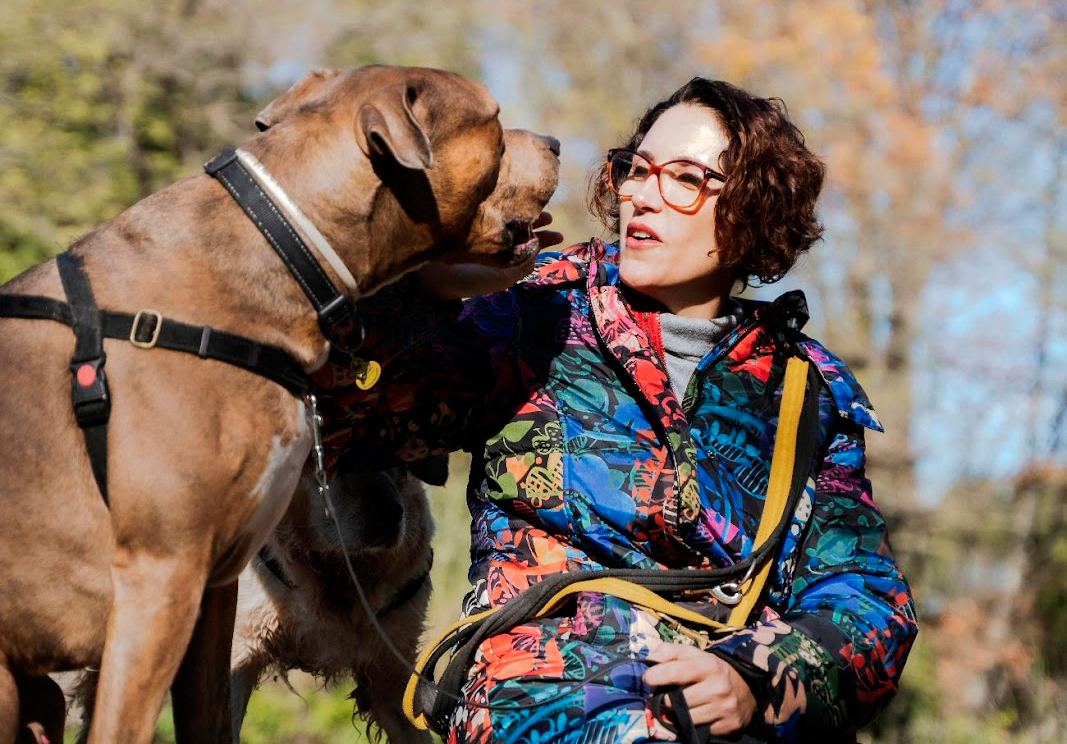 I studied Biochemistry, but I didn't see myself in a lab. I received canine education training, which led me to study veterinary ethology at the Universitat Autònoma in Barcelona. I wanted to explore this field in depth, so I did a master's degree in Health Science Clinical Research to get a Ph. D. in Anthrozoology. I already knew everything about the animal side and wanted to understand how humans related to their pets.
What got you interested in anthrozoology?
When I started working in shelters helping families with their cats and dogs, I realized something was wrong. I was confident that the pets' issues were not severe; it was just a matter of patience and following guidelines. Some people succeeded, and some didn't, with very similar cases. I realized that to understand it all, I had to know everything about the human side of the relationship.
What exactly is anthrozoology?
It is the science that studies how humans relate to and interact with other species. I have specialized in the field of companion animals.
How do humans relate to animals?
People who become attached to cats or dogs include these animals into their close social network as if they were another individual. Humans can anthropomorphize animals, and that is why they have domesticated them. This mental strength has allowed us to empathize with other animals as people constantly expand their social networks.
Are there any exceptions?
Of course, some people do not bond. Various factors contribute to this bonding, and each individual's personality is crucial. Human factors will determine if that person bonds with that animal from a different species or not.
Can it be taught?
There is a cultural and a natural element. That is why a child raised with values and respect and in contact with animals will develop more empathy. It is a proven fact and a benefit for society.
What is compassion fatigue?
It is a syndrome that arises from being empathetic towards the beings you care for as you devote your time, resources, and work to them. Eventually, you run out of empathy and compassion because everything is against you.
In which sector is it more common?
Of all the sectors where compassion fatigue may occur, it is most prevalent in animal care. A person finds it difficult to achieve success after making a huge effort, like in the case of an adoption, and then face three failures (three abandoned animals, for instance). This eventually takes its toll.
What psychological traits do people who tend to suffer from this syndrome share?
One of the factors is the level of empathy. The more empathetic you are, the easier it is to suffer from compassion fatigue. Gender is also a relevant factor: it is more common in women. Another factor is health. The younger you are, the fewer emotional management tools you have and the more prone you are to fall into this syndrome. It is simply a lack of maturity to face several failures without knowing how to manage them.
What are the signs of compassion fatigue?
Several signs may or may not occur at the same time. The most basic ones are the appearance of sleep disorders, anxiety, severe depression, and social isolation. The immune system is also affected, and you get sick very often. Also, you become more irritable, more susceptible, and lose your temper quickly. Finally, your mind and body express this emotional exhaustion, and you may even disconnect from your profession.
Most people are not aware they are suffering from this syndrome. If they were aware of it, they could help themselves and continue their work. We must be mindful that compassion fatigue is a silent enemy for veterinarians, but it can be prevented.
Are suicide cases among veterinarians related to compassion fatigue?
Suicide is one of the consequences of compassion fatigue. The U.S. healthcare sector has recognized the highest suicide rate in the veterinarian sector. There is a crucial factor related to the lack of recognition of the work of veterinary professionals by society. People do not understand the emotional shock of euthanizing an animal. The day-to-day trauma of going through these shocks, which are not socially recognized, takes its toll.
Is there any method to protect oneself?
First of all, validated psychometric questionnaires allow you to assess your situation. Veterinary clinics should present these questionnaires to their teams regularly. Secondly, we have to stress that psychological support is necessary. It would be ideal to bring the veterinary team together periodically and provide psychological care tailored to the veterinary sector. Team therapy sessions should also be implemented just as clinical sessions are carried out.
Does this have an impact on teamwork?
Of course, it does. You realize that conflicts between colleagues arise due to compassion fatigue. People are irritable because they are exhausted. Burnout is not related to empathy or bonding with animals. We talk about burnout when we refer to overwork. And sometimes, the two can be combined.
Do people who work in animal shelters and sanctuaries also suffer from it?
Yes, I experience that every day. I am in charge of colonies of stray cats. So many feeders have worked around the clock for fifteen years with society against them. There is a lot of compassion fatigue there.
How can the veterinary community benefit from anthrozoology?
I believe that talking about the veterinary community as a whole is an error as there are subgroups. However, anthrozoology can help clinical veterinarians to obtain better results. The animal's guardian supervises that the cat or dog takes its medication and follows a diet. If the veterinarian gains the guardian's loyalty and understands him better, he will obtain better results. And that is where anthrozoology comes in.
Do you believe this is a growing trend?
I think that more and more importance is given to anthrozoology, so much so that the U.S. veterinary association is already discussing it. They consider it to be the veterinarian's unfinished business and that it should be included in their education and training.
What is the final purpose of your informational approach?
A doctor, a psychologist, or a psychiatrist should care about how many members make up their patient's family without leaving aside all other animals. This matters because one should not ignore that a dog or a cat offers the same emotional support as any other family member.
My purpose is to bring about a legitimization of multi-species families in our society. I call it the multi-species revolution, and I do a weekly live stream on Instagram on this topic. We live in a multi-species society, where families are made up of humans and animals. Let us all realize that the world is anthropocentric!
https://www.linkedin.com/in/drapaulacalvoantrozoologia/
info@antrozoologia.com
@antrozoologia