In the veterinary sector, stress has become a common complaint in everyday life. From high professional expectations to personal worries, stress can undermine your physical and emotional health in a number of ways. However, you have a powerful tool in your own hands to combat this "stress" and it's right under your nose: a healthy diet. In this article, we will explore the connection between diet and stress and see how embracing a balanced diet can be key to maintaining a resilient mind and body.
The link between diet and stress
The relationship between diet and stress is complex and many-fold. The food we eat has a direct impact on our body's biochemistry and physiology, which in turn influences our responses to stress. 
There is no need to reiterate here the physiological responses that acute and chronic stress generates in your body, as they are well known to all veterinarians. Digestive problems, weight gain, elevated blood pressure, heart problems, immune system problems, muscle aches, insomnia, anxiety, depression or skin problems can all result from living with chronically elevated adrenaline and cortisol.
Chronic stress also influences your eating patterns. You may forget to eat, crave ultra-processed foods high in carbohydrates or saturated fats, abuse caffeine and have problems with insomnia. Cortisol promotes the accumulation of belly fat and is associated with insulin resistance and an increased risk of type 2 diabetes, cardiovascular disease and some breast cancers, as well as reducing leptin and increasing ghrelin.
Chronic stress alters cortisol and adrenaline levels leading to physical conditions that pose health risks.
Changing eating patterns to improve your health
A healthy diet provides the essential nutrients the body needs to function properly and balances stress-related hormone levels. It seems like a no-brainer to remind the veterinary sector of this, but in the rush and time crunch we forget not only to eat properly but even to eat consciously. 
Mindful eating means eating slowly, focusing our attention on the food, tasting and chewing well, and choosing the food we eat in a thoughtful way. And when we practice mindful eating we can also realise whether we are really eating out of physiological hunger or psychological hunger.
Planning your weekly menu and dedicating a morning or afternoon to preparing different dishes and having them available just by opening the fridge can help you regulate your diet. When you don't have much time, improvising food from what's in the fridge is a risk: there may be nothing at all and you may end up having to order out!
Key nutrients to combat stress
Vitamins and minerals: B vitamins such as vitamin B6, B12 and folic acid are crucial for the production of mood-regulating neurotransmitters such as serotonin. In addition, minerals such as magnesium and zinc also play an important role in stress response and emotional balance.
Antioxidants: Oxidative stress is an imbalance between free radicals and antioxidants in the body, and can trigger inflammatory responses and increase stress levels. Foods rich in antioxidants, such as brightly coloured fruits and vegetables, nuts and seeds, can help combat oxidative stress and protect the body from its negative effects.
Essential fatty acids: Omega-3 fatty acids, found in foods such as oily fish, walnuts and chia seeds, have anti-inflammatory properties and can help regulate stress responses. These fatty acids also influence brain health and cognitive function, which can have a positive impact on stress management.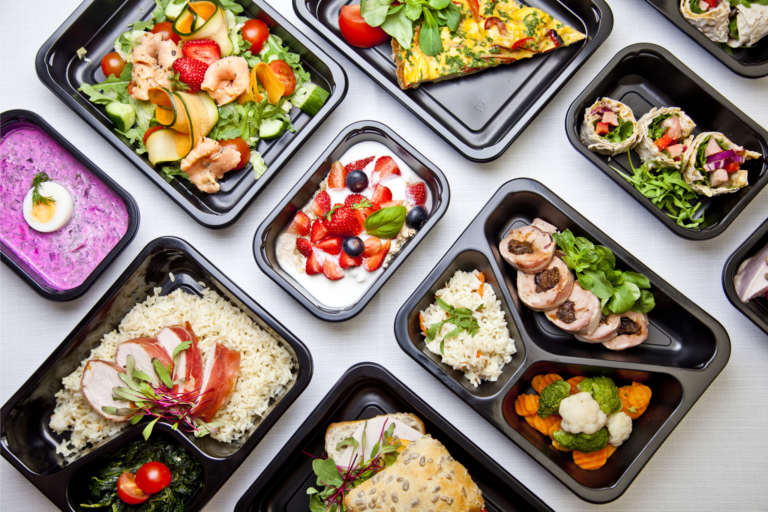 Tips for adopting a healthy diet and reducing stress
Include a variety of fresh, natural foods in all your meals, such as fruits, vegetables, whole grains, lean proteins and healthy fats.
Eliminate processed foods, refined sugars and saturated fats, which can increase inflammation and oxidative stress.
Maintain proper hydration by drinking enough water throughout the day.
Cut down on excessive caffeine and alcohol, which can negatively affect mood and your restorative sleep at night.
Plan and prepare healthy meals in advance to avoid resorting to unhealthy choices when under stress or time constraints.
Listen to your body and eat consciously, paying attention to hunger and fullness cues and indicators of a lack of certain minerals or vitamins.
Combine healthy eating with regular exercise and stress management techniques such as meditation, yoga or deep breathing. On HappyVet Project you will find yoga and meditation videos specially designed for vets in the VetYogi section.
A healthy diet is a powerful tool within your grasp to combat stress and maintain optimal health. Adequate nutrients, stabilising mood, promoting a healthy gut microbiota and improving energy and resilience are just some of the benefits that a balanced diet can provide.
By giving proper thought to what you eat on a daily basis, you can strengthen your ability to cope with stress and promote holistic wellness in your life. Consult a nutritionist for a complete analysis of all vitamins and minerals. There is no better person than a professional to guide you in changing your diet according to your needs and lifestyle.
References
Stress and Health. Harvard T.H.Chan – https://www.hsph.harvard.edu/nutritionsource/stress-and-health/#:~:text=A%20balanced%20diet%20can%20support,help%20to%20regulate%20cortisol%20levels.
La regulación de neurotransmisores por la microbiota intestinal y su influencia en la cognición y las alteraciones neurológicas. Psiquiatría.com. https://psiquiatria.com/neuropsiquiatria/la-regulacion-de-neurotransmisores-por-la-microbiota-intestinal-y-su-influencia-en-la-cognicion-y-las-alteraciones-neurologicas/
Eat these foods to reduce stress and anxiety. Cleveland Clinic. https://health.clevelandclinic.org/eat-these-foods-to-reduce-stress-and-anxiety/