"We work tirelessly for the betterment of other people's horses, for a reward significantly less than our human counterparts with increased risk of harm to ourselves. This selflessness is to be applauded to a certain extent. However, it can contribute to burnout because we believe that we must continue to meet the needs of others before ourselves."

Colleen Best³, PhD, perfectly describes of one of the causes that can lead to burnout among equine veterinarians. It can lead to disorders such as anxiety and depression, exacerbated by compassion fatigue and extreme exhaustion.
The reality of equine veterinary medicine
In Europe, the vast majority of veterinarians work with small animals. Only 21% work with horses and other equine species. 5.8% of veterinarians graduating annually in the United States go into equine practice. Of these, 50% leave after 5 years to practice on small animals. Of all veterinarians in the US, only 4.6% currently work in equine practice.
The high concentration of veterinarians in urban areas, mainly dedicated to small animals, creates a lack of equine and livestock professionals in rural areas.  
The picture painted by the studies tends toward a higher concentration of small animal veterinarians in urban areas. This trend leads to a lack of resources in rural areas that affect both horse and farm animal veterinarians: low staffing levels, long working hours, long commutes and irregular schedules.

This reality can lead to extreme exhaustion, anxiety, and depression — even to the point of leaving the profession. In some severe cases, it can culminate in an attempt at one's own life. The risk of suicide among veterinarians is twice as high as in other health professions.
Burnout in equine veterinarians
Some of the factors leading to burnout in equine veterinarians are common to the whole profession:
– Long working hours and work overload, mainly due to lack of vets in some areas.
– Emergencies at random hours.
– Difficulties in balancing work and family life. Equine veterinary work is even less compatible with family life. Considering that it's a profession increasingly dominated by women, it's significant that in the UK some female vets leave the profession when they plan to have a child after five years or more of practice⁵.
– Cyberbullying. Cyberbullying occurs when horse owners leave negative comments on social media. Although it is more commonly seen in clinics working with small animals, it also occurs in the horse world. Cyberbullying creates tension in the workplace that can lead to depression and stress.
Horse veterinarians are seven times more likely to suffer a career-ending injury than a firefighter.
The equine veterinary profession also has circumstances that make it tougher than that of small-animal practice:
Lower salaries. In general, salaries earned for their work are often lower than for small animals, according to the 2018 VetSurvey.
Working in cold, rain, snow or extreme heat. Horse veterinarians must work regardless of the weather. Younger ones, moreover, can be 100% available for their clients to prove themselves to their clients or their employers. And according to the Piavita² article, once clients expect this availability, it's difficult to change.
Long commutes. The job requires them to travel many kilometres throughout the day.
Risk of injury. Horse veterinarians are seven times more likely to suffer a career-ending injury than a firefighter ⁵. A large proportion of these injuries occur despite sedation and restraint, usually in lameness assessments or dental examinations.
The risk of injury from biting, kicking or shoving is a factor to consider when a vet becomes pregnant. If this is your case, European legislation protects the rights of pregnant women – there are alternatives before you leave the profession you love!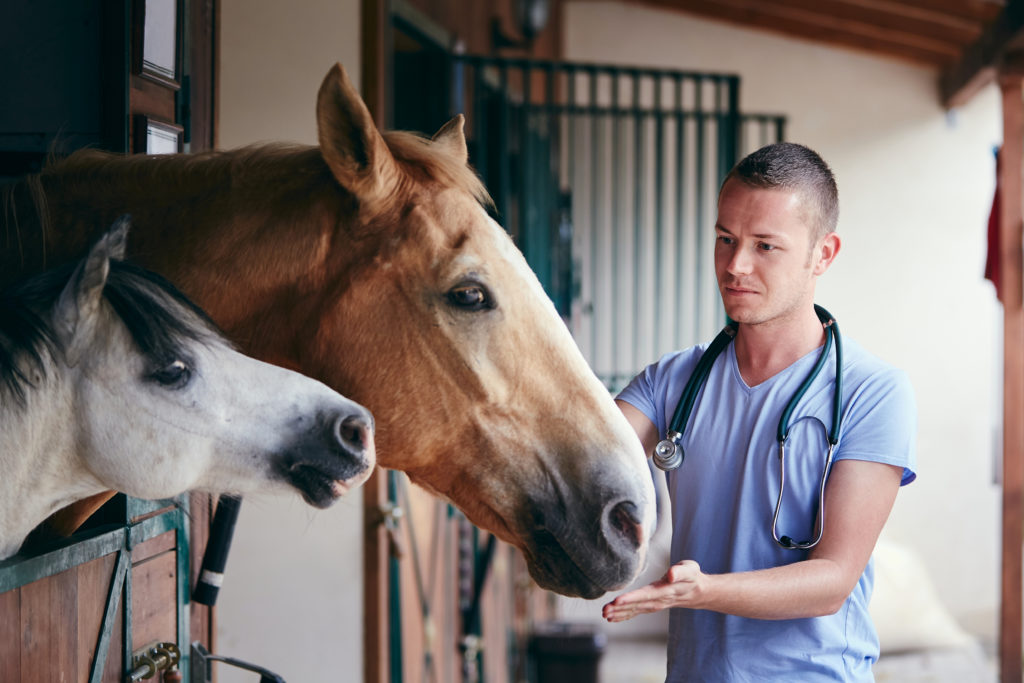 Compassion Fatigue also affects horse veterinarians

Compassion Fatigue is the result of the combination of the individual's personality and the context of their environment. The personality type that the veterinary profession attracts coupled with erratic work schedules, suffering patients and disappointed owners can create the perfect scenario for the development of Compassion Fatigue syndrome.
Symptoms of Compassion Fatigue include:
Dissociation. You are physically present at work but your mind is unable to concentrate on what you are doing, feeling as if you are disconnected from reality. You operate on autopilot.
Emotional numbing. This is the brain's way of relieving suffering: you find it difficult to express feelings, define what is happening to you and relate to the experiences around you.
Isolation. You stop having social contact and tend to isolate yourself at home or take refuge in new technologies. You may come to think that since no one understands your situation, it's not worth talking about it or explaining it. You stop enjoying the activities you used to enjoy.
Hypervigilance. This is a state of increased sensory sensitivity that is often accompanied by an exaggeration in the intensity of your reactions. This is a heightened state of alertness designed to protect you from danger, making you more irritable than usual.
Sleep problems. Difficulty falling asleep or sleeping too much.
Crying. You cry about different situations and often, either because of something that happened or for no apparent reason.
Avoidance and/or obsession. You avoid anything related to the source of the distress or you fixate and become obsessive.
If you suspect you may have any symptoms of Burnout or Compassion Fatigue, you can take the HVP tests completely free of charge. You can find them at the following links: burnout quiz and compassion fatigue test.
If you want to know about the symptoms and how to alleviate Burnout and Compassion Fatigue you may be interested in the following articles: Something´s wrong… Could it be Burnout?
and Compassion Fatigue in Vets and Vet Nurses. Identify the Symptoms and learn how to protect yourself
References
Shortage of veterinarians in rural and remote areas. FVE. July 8, 2020
Mental health and Well-being in Equine Veterinary Practice. Jessica Ehlert. Piavita.
Reclaiming what matters: moving through Burnout as an Equine Veterinarian. Colleen Best, DVM, PHD, BSCH. November 21, 2022
Labor shortage prompts AAEP to form workforce commission. R.Scott Nolen. AVMA News. Aug 17, 2022
Support for U.K. Veterinarians Seeking Work-Life Balance. Stephanie L. Church. The Horse. Aug 20, 2018
VetSurvey2018. Federation of Veterinarians of Europe.